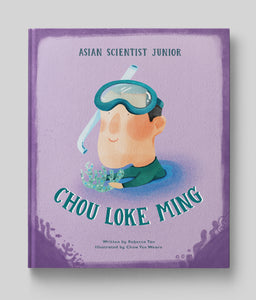 by Rebecca Tan
About the book:
Coral reefs are home to so many different kinds of sea creatures that they are known as the rainforests of the seas. Sadly, coral reefs all around the world are dying, but Chou Loke Ming is on a mission to help them recover. Loke Ming went from being a village boy to a coral doctor, and is saving the world one coral at a time.
💡Download your free activity worksheets for the Asian Scientist Junior series here.  
Collection: Asian Scientist Junior 
This book series dives into the lives of extraordinary scientists who have made significant contributions to the science and technology space—from a pioneer of India's satellite program to the scientist who discovered a cure for malaria. Through these stories of courage and conviction, Asian Scientist Junior hopes to inspire all children, wherever they grow up, to dream of a better tomorrow.
For more books from the Asian Scientist Junior collection, visit http://bit.ly/Asian-Scientist-Junior
---
ISBN: 978-981-11-7901-3
Publication Date: 23 September 2018
Dimensions: 240mm x 195mm 
Pages: 36
Format: Hardcover