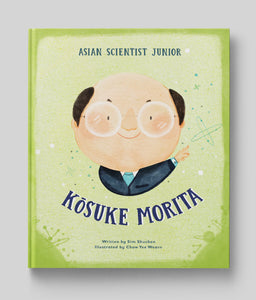 by Shuzhen Sim
About the book:
The elements of the periodic table make up everything in the universe. New elements are very hard to discover. But like a lion on the prowl, Kōsuke Morita hunted down element 113, the first element ever discovered by researchers from Asia. Don't you want to know how he did it—and what he named it?
💡Download your free activity worksheets for the Asian Scientist Junior series here.  
Collection: Asian Scientist Junior
This book series dives into the lives of extraordinary scientists who have made significant contributions to the science and technology space—from a pioneer of India's satellite program to the scientist who discovered a cure for malaria. Through these stories of courage and conviction, Asian Scientist Junior hopes to inspire all children, wherever they grow up, to dream of a better tomorrow.
For more books from the Asian Scientist Junior collection, visit http://bit.ly/Asian-Scientist-Junior
---
ISBN: 978-981-11-7898-6
Publication Date: 23 September 2018
Dimensions: 240mm x 195mm 
Pages: 36
Format: Hardcover