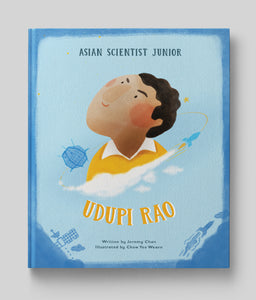 by Jeremy Chan
About the book:
As a child, Udupi Rao would dream about outer space, where the stars and planets live. When Udupi grew up, he learnt how to build machines called satellites that can be sent into outer space aboard a rocket. With hard work and determination, he succeeded in launching India's first satellite, the Aryabhata! Udupi's story shows that the sky is the limit if you have big dreams and chase them with all your heart.
💡Download your free activity worksheets for the Asian Scientist Junior series here.  
Collection: Asian Scientist Junior
This book series dives into the lives of extraordinary scientists who have made significant contributions to the science and technology space—from a pioneer of India's satellite program to the scientist who discovered a cure for malaria. Through these stories of courage and conviction, Asian Scientist Junior hopes to inspire all children, wherever they grow up, to dream of a better tomorrow.
For more books from the Asian Scientist Junior collection, visit http://bit.ly/Asian-Scientist-Junior
---
ISBN: 978-981-11-7899-3
Publication Date: 23 September 2018
Dimensions: 240mm x 195mm 
Pages: 36
Format: Hardcover