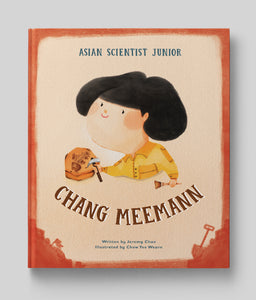 by Jeremy Chan
About the book:
As a child, Chang Meemann was curious about animals and plants in nature. She decided to become a paleontologist— someone who learns about dinosaurs and ancient fish by studying their remains, known as fossils. With her keen research skills, she became the first woman director of an important research center in China studying fossils. Meemann's story demonstrates how passion, nurtured from a young age, can drive scientific excellence.
💡Download your free activity worksheets for the Asian Scientist Junior series here.  
Collection: Asian Scientist Junior
This book series dives into the lives of extraordinary scientists who have made significant contributions to the science and technology space—from a pioneer of India's satellite program to the scientist who discovered a cure for malaria. Through these stories of courage and conviction, Asian Scientist Junior hopes to inspire all children, wherever they grow up, to dream of a better tomorrow.
For more books from the Asian Scientist Junior collection, visit http://bit.ly/Asian-Scientist-Junior
---
ISBN: 978-981-11-7900-6
Publication Date: 23 September 2018
Dimensions: 240mm x 195mm 
Pages: 36
Format: Hardcover