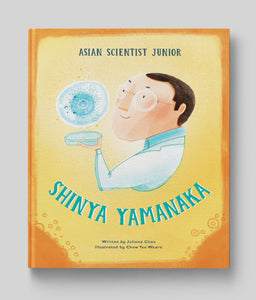 by Juliana Chan
About the book:
As a young surgeon, Shinya realized that there were many diseases that even talented surgeons and doctors cannot cure. To help scientists study diseases more easily, Shinya found a simple way to create stem cells from skin cells in the laboratory. Not only did his incredible discovery win him the Nobel Prize, it has also brought hope to millions of patients and their families around the world.  
💡Download your free activity worksheets for the Asian Scientist Junior series here.  
Collection: Asian Scientist Junior
This book series dives into the lives of extraordinary scientists who have made significant contributions to the science and technology space—from a pioneer of India's satellite program to the scientist who discovered a cure for malaria. Through these stories of courage and conviction, Asian Scientist Junior hopes to inspire all children, wherever they grow up, to dream of a better tomorrow. 
For more books from the Asian Scientist Junior collection, visit http://bit.ly/Asian-Scientist-Junior
---
ISBN: 978-981-11-7897-9
Publication Date: 23 September 2018
Dimensions: 240mm x 195mm 
Pages: 40
Format: Hardcover